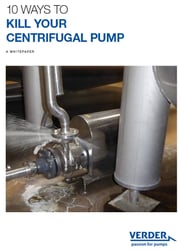 Centrifugal pumps are reliable, low maintenance pumps. They are worldwide good for > 40% of all fluid transfers. The centrifugal pump has a very simple principle, but there are some other essentials that can influence the results of the pumping process and can even damage the pump severely.
In this whitepaper we explain the 10 most crucial essentials to avoid damage and create a reliable, safe pumping process with hygienic pumps.
Just fill in your details and your download will start immediatly!